We're back with another Quick Q+A!   This one is brought to you by one of our great retailers from New Jersey.  Not only do they have a colorful online store, but they have a welcoming little showroom where they get to meet their customers face to face on a daily basis.  Erica had some amazing tips and insight on finding inspiration for your wedding style, read all about it for yourself:

What's the story behind your company name, Little Things Favors?
When I was shopping for my own wedding in 2003 I had a hard time finding all the "little things" I needed for my wedding.  I browsed so many websites and had to order everything I needed from numerous different vendors.  By the time I was done, the UPS driver knew me by name – I had so many packages delivered!  I thought there must be an easier way to shop for weddings, so I sought to develop a one-stop shop for all the little things brides need for their wedding.  From ceremony supplies to reception decorations, wedding and bridal accessories to wedding favors – we have it all! Well, almost everything – you can find whatever you need for your wedding day at Little Things Favors – except the dress and the groom!
How long has your showroom been opened?  What's the best part about being able to talk favors with customers face to face?
Our showroom opened September 2008, so it has been four years since we opened our doors to clients.  I really wanted a retail location that brides could visit to see and feel our favors and accessories in person.  So many of our customers would call and ask detailed questions about the items we carried or would order samples to see exactly what they were getting before placing a bulk order. I knew that the next step in our business development was to open a boutique that customers could shop in person.
I love that we are able to meet clients face to face.  Couples tell us their stories, how they met, what their style is, what their lives are like!  It makes the wedding shopping experience, much more personal for both our clients and us.  We love to hear their stories! We are very much romantics at heart and it brightens our day when we have clients come in.  The best part for our clients though, is knowing that we are real people behind the website and that we genuinely care about their wedding and making sure they are happy with the items they purchase.  Just by talking to clients we are able to steer them in the right direction and show them favors and accessories they never even realized were perfect for them.
Where would you suggest brides go for inspiration when planning their weddings?
Oh, there's so many places brides can go to find inspiration!  My personal favorite recommendation is to know your own personal style and begin your search from there.  If a bride is an outdoorsy type, she may want to look at the outdoor space around her venue or favorite places to seek color and theme inspiration.  If she is a classic bride, look to the era in which she is most attracted to and pull inspiration from movies, photographs and books from that time period.  If a couple is having a seasonal wedding, because they love that season, pull elements from there into the reception location.  Anything goes with weddings these days, it is all about the couple's personal style and taste.  There are no "cookie cutter" weddings anymore, each bride is different, every wedding is unique and brides are now looking to put their own individual twist on their day.
For online inspiration, a great place to start looking for ideas and learn about your own style is Pinterest. There are just so many unique finds that are shared in one place and you'll never know what you'll come across. I am in love with Pinterest!  When I first started my personal account, I created a board called "wedding inspiration" and began pinning things that I would use if I was planning a wedding for myself.  Interestingly, I learned through Pinterest my personal style has changed from bohemian beach (my style in 2003) to retro glam (what I am currently in love with).  I would recommend to all brides who are looking for inspiration and aren't sure what they want, to start using Pinterest – in a few short weeks, they will see what their own style is.
Other sources to find inspiration are blogs, wedding shows on TV, magazines, Etsy, and of course, LittleThingsFavors.com!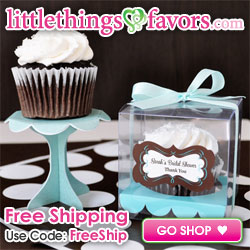 Do you have any trend predictions for the upcoming fall and winter seasons?
Fall has become increasing popular for weddings, more so than summer it seems this year!  One of the bigger trends we see is the rustic / vintage theme.  What is old, is new.  Recycled items, repurposed items, handmade items, wooden décor and outdoorsy, nature themes.  I love this trend for fall weddings because many of the rustic items lend an Autumn feel that reminds me of pumpkin picking, apple cider, maple syrup and old farmhouses. For a winter rustic theme, I think of vintage snowshoes, log cabins, sitting by the fire, hot cocoa, pinecones, ice lanterns and natural wood such as white birch.  And for the DIY bride, eco-chic or the bride who loves to go antique shopping – this trend is very chic and do-able!
Another trend we noticed is the personalization of weddings.  I don't mean personalizing items (that still is quite popular too!) but rather, giving your wedding a heartfelt, genuine and unique touch by decorating with items that mean something special to the couple.  Whether it is a favorite quote framed and hung by the entrance, a puzzle guest book to sign, a reception in a baseball stadium, a cocktail party in a museum, glamorous table decor, a signature cocktail, photo booths that their guests can take home pictures – couples are seeking to make their wedding very distinctive and very them.
What first caught your eye about Event Blossom's product line?
Event Blossom has unique products that can be personalized with beautiful, modern designs and colors – and the turn around time for personalization is fast.  I have personally used so many of Event Blossom's products for my own events.  I've used candy jars for my grandfather's 80th birthday, Sweet Shoppe Candy boxes and lollipops for my son's birthday party, baby animal notebooks for a baby shower I attended.  I always recommend Event Blossom products to my clients as well because I know the quality printing and value they are getting can't be beat.