Hello Blossomers!
Some of the most popular styles of wedding favors no matter the time of the year are edible wedding favors. This can range from candy to baked goods or even beverages. Our new Floral Garden collection of favors and gifts has multiple edible wedding favor options to choose from. Keep reading below for details.
Personalized Floral Garden Hot Cocoa and Lemonade Mixes
For an outdoor bridal shower or wedding in the spring or summer months or a cozy fall and winter celebration, our custom lemonade mixes and hot cocoa mixes are the ideal favors! Personalize these lemonade and hot cocoa packs with your choice of background color, floral garden design and text lines. Label these packs with a special thank you note or try out one of our favorites such as "A Lovely Mix" or "Nothing is Sweeter than Love". Each single serving white gloss pouch contains 1 oz. of refreshing lemonade or decadent hot cocoa mix. Simple mixing directions are printed on the backside. Go the extra mile by pairing them with our optional heart handle mini whisks. Optional whisks come with a white satin bow and a heart shaped handle that has a small opening so you can easily slip it through a hole.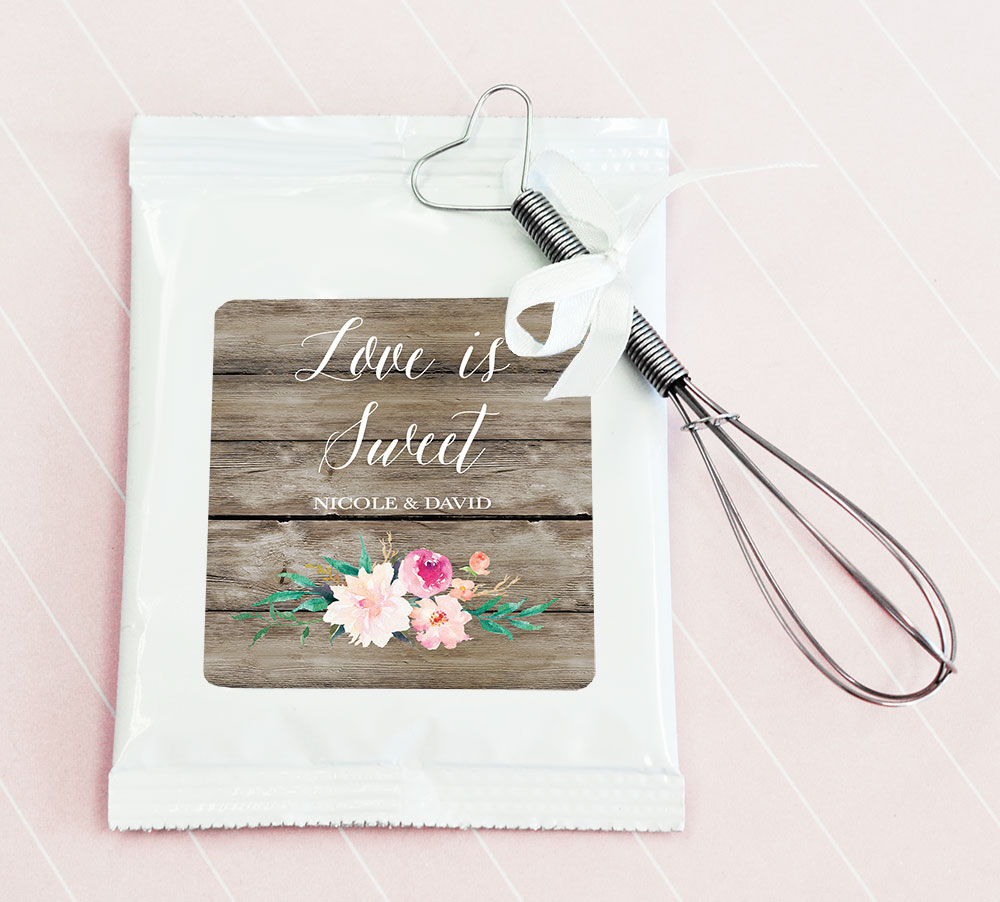 Personalized Floral Garden Gum Boxes
Show your wedding guests you are "STUCK" on love with Floral Garden Personalized Gum Box Favors! These palm sized boxes are perfect for an after dinner treat or to slip in a pocket or purse. Each white re-closable paper box is filled with assorted colored gum. Choose from different background colors, floral garden designs and text to find a style that's right for you.

Personalized Floral Garden Mini Mints
Guests will know you and your partner are "mint" to be with our Personalized Floral Garden Mini Mint Favors. Each white mint pack is travel size so guests can easily slip these into their pockets or purses. Choose from many background colors and floral garden designs to match your theme and customize the labels with a thoughtful message to thank your friends and family on this special day.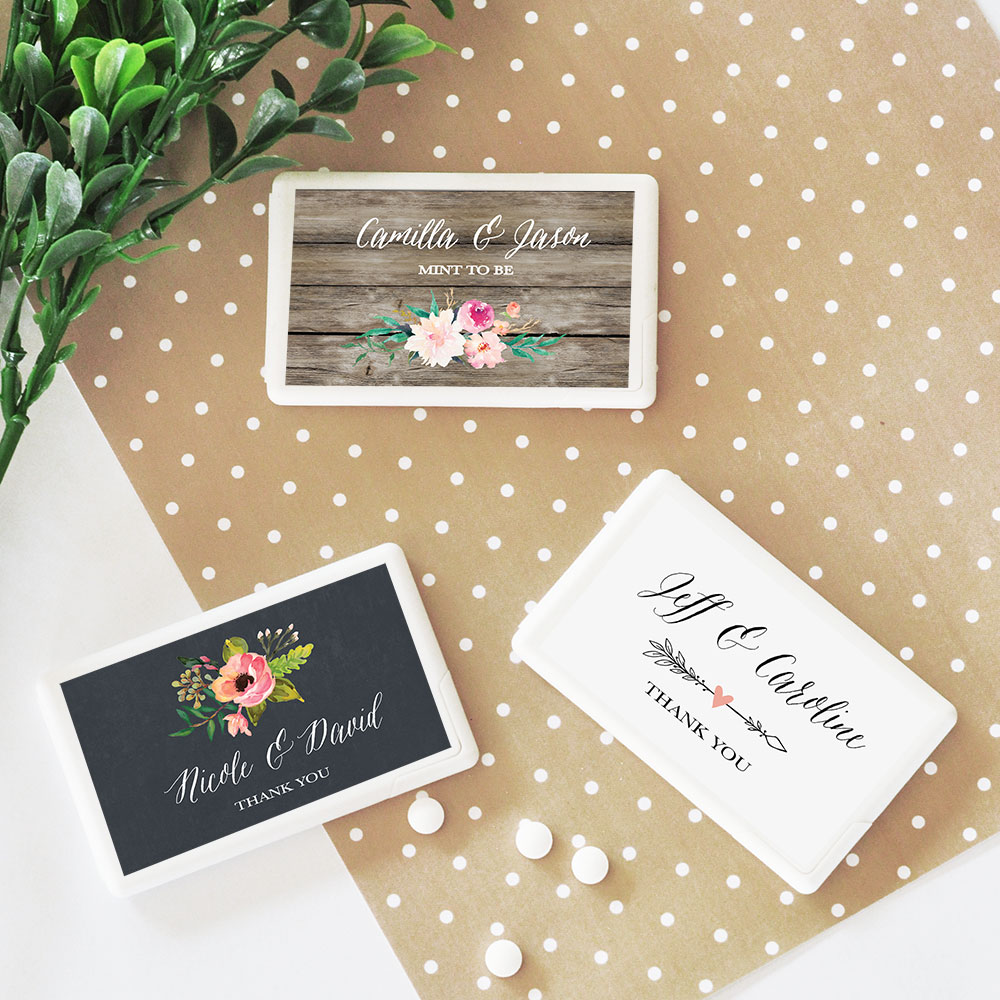 Personalized Floral Garden Lollipops
Treat your guests to a favor they can enjoy at your event or take home for a midnight snack. Our Floral Garden Lollipop Favors are yummy strawberry-flavored treats you can customize to match your event. Choose a background color, design and two lines of text to thank your guests. A elegant white satin bow and clear-cellophane wrap around each lollipop favor to add the right finishing touch. For every 24 lollipops, you will also receive the perfect matching Display Box to showcase them standing up, making for an ultra-chic event accessory.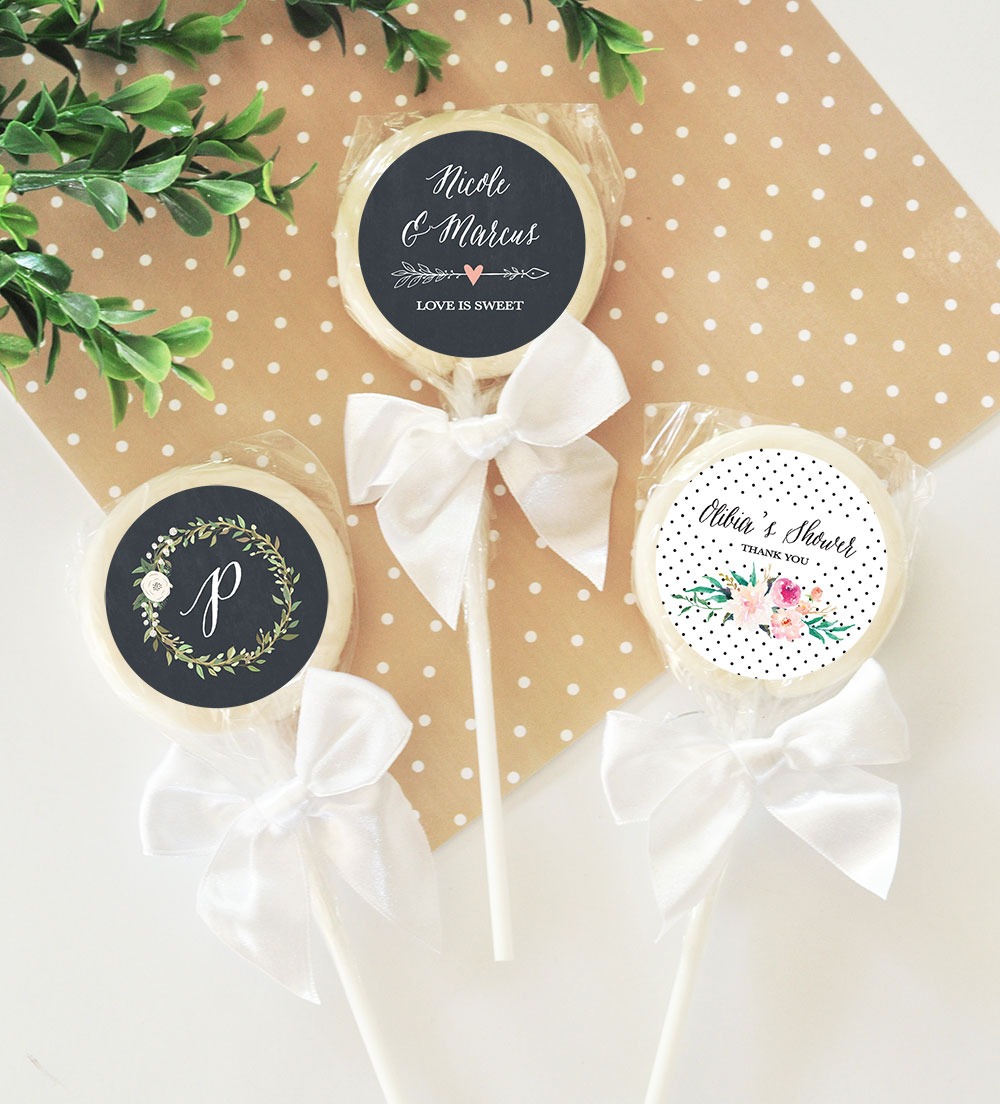 You can find these edible wedding favors and much more in our Floral Garden Wedding Favors collection!
Until next time,
Julie