Hello Blossomers!
Many customers are already planning for their winter celebrations – birthdays, weddings, graduations, the holidays. Help them keep their party guests warm and comfortable during the winter season with our variety of coffee and cocoa gifts and favors. These delicious and stylish treats will be crowd favorites that they can enjoy at the event or take home to enjoy later. All options are available in a variety of themes, so no matter what customers are celebrating there will be a favor for them. Find details below.
Personalized Hot Cocoa Favors
Our custom hot cocoa favors are ideal for hosts with a sweet tooth. This decadent chocolate mix is packaged in glossy white, single serving packets with a premium blend of powdered hot cocoa. Each pack includes mixing directions printed on the back, leaving the front blank to apply a custom label. The hot cocoa mixes are available in graduation designs, Vegas designs, birthdays, baby showers, holiday and even wedding designs. Choose from our popular metallic foil ink or bright colors to match your theme. Complete your custom label with personalized text lines thanking guests for attending.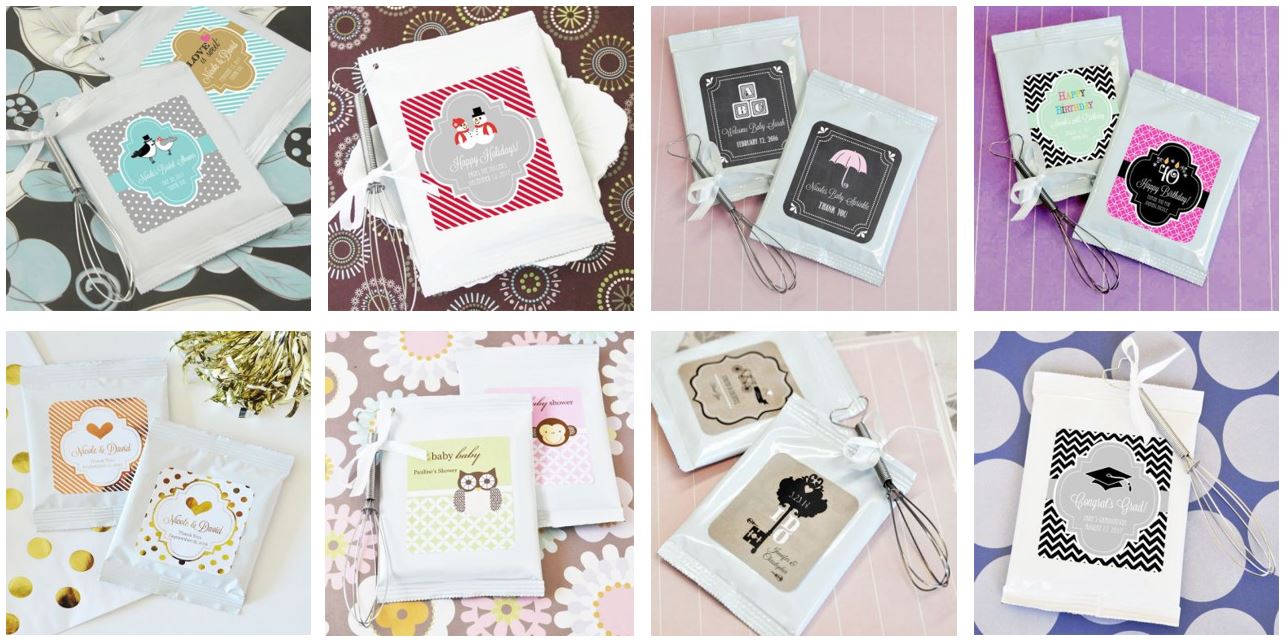 Heart Handled Whisks
Create the perfect hot cocoa gift by pairing it with our heart handled mini whisk. These whisks come with a white satin bow and a heart shaped handle that has a small opening you can easily slip through a hole. Pair it with our custom hot cocoa favors shown above or any other favor you may already have like coffee beans, mugs, brownie mix, recipe cards and more. Guests will be able to take the whisks home and use long after your event has ended.

Monogram Coffee Mugs
Gold monogrammed coffee mugs can be a more personal gift to hand out to guests. You can purchase one for each individual guest at a smaller, more intimate gathering. Each ceramic white mug comes with a shiny gold rim and gold vinyl monogram of the customers' choosing. This is a favorite gift for bridal parties, coworkers, moms or just for coffee lovers this holiday.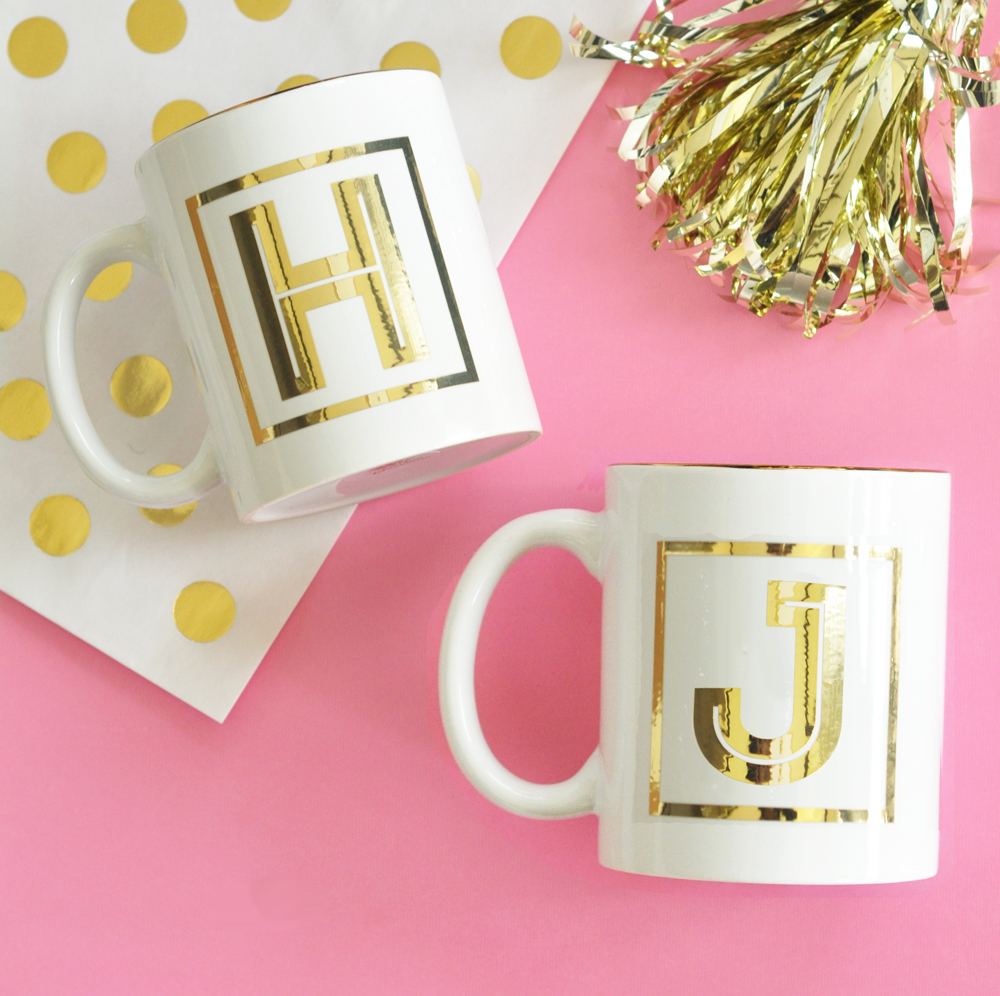 Metallic Foil Travel Coffee Tumbler
For gifts guests can use on the go or at home, our metallic foil custom coffee tumblers are the way to go! Each acrylic tumbler comes with a black twist off lid for easy cleaning. Customers will get the choice of one of our three shiny metallic foil colors – gold, silver or rose gold, a pattern – polka dots, bold stripes or skinny stripes, a monogram or heart design and one text line. Choose to leave names, bridal party roles, a date or whatever the customer pleases.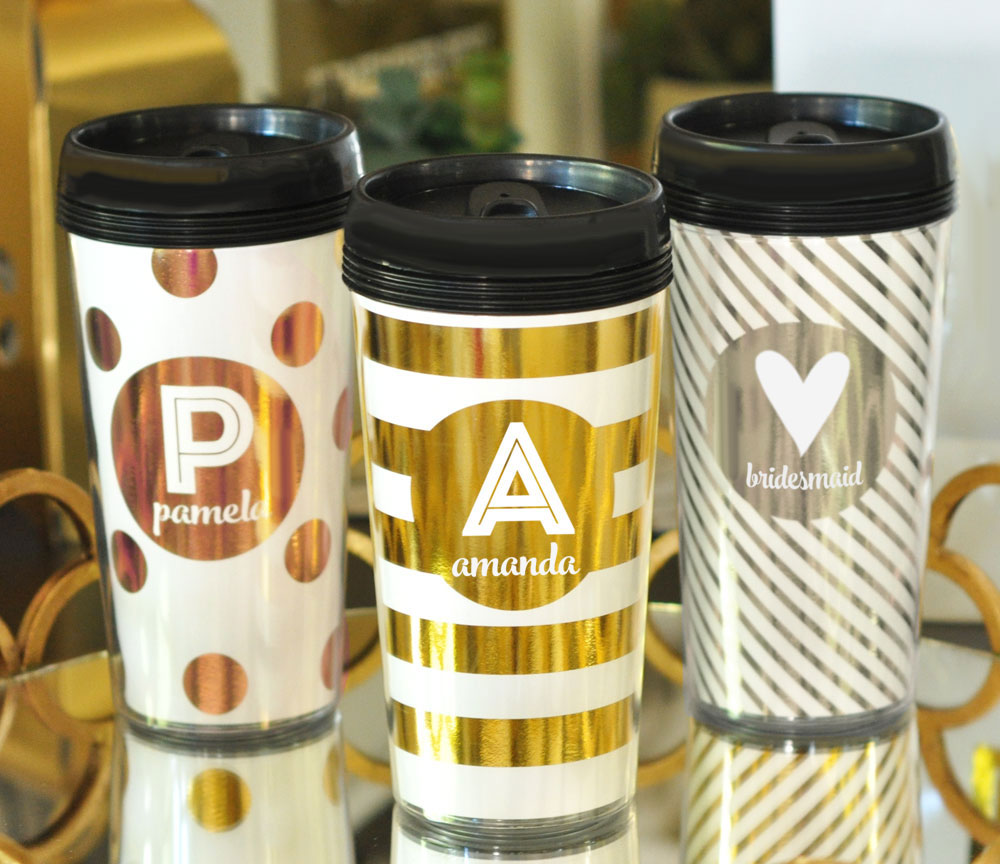 For gift packaging ideas for these favors and gifts, click here!
Until next time,
Julie