Hello Blossomers
What girl doesn't love jewelry? Give your bridal party a gift you know they'll love and wear over and over again. Our new Bridal Party Gifts collection has cute and classy jewelry options that are perfect for a bridesmaid thank you gift or to ask friends for help "tying the knot". Keep reading for details!
Gold Date Bracelets
Looking for an engagement or wedding gift for the bride-to-be? Our customized date bracelet is just the thing! This 18k gold plated bangle style bracelet comes with six number charms of your choosing and two heart charms. Choose the proposal date or wedding date as a keepsake for the bride. You can also add a signature gold heart gift box so it is ready to gift upon arrival.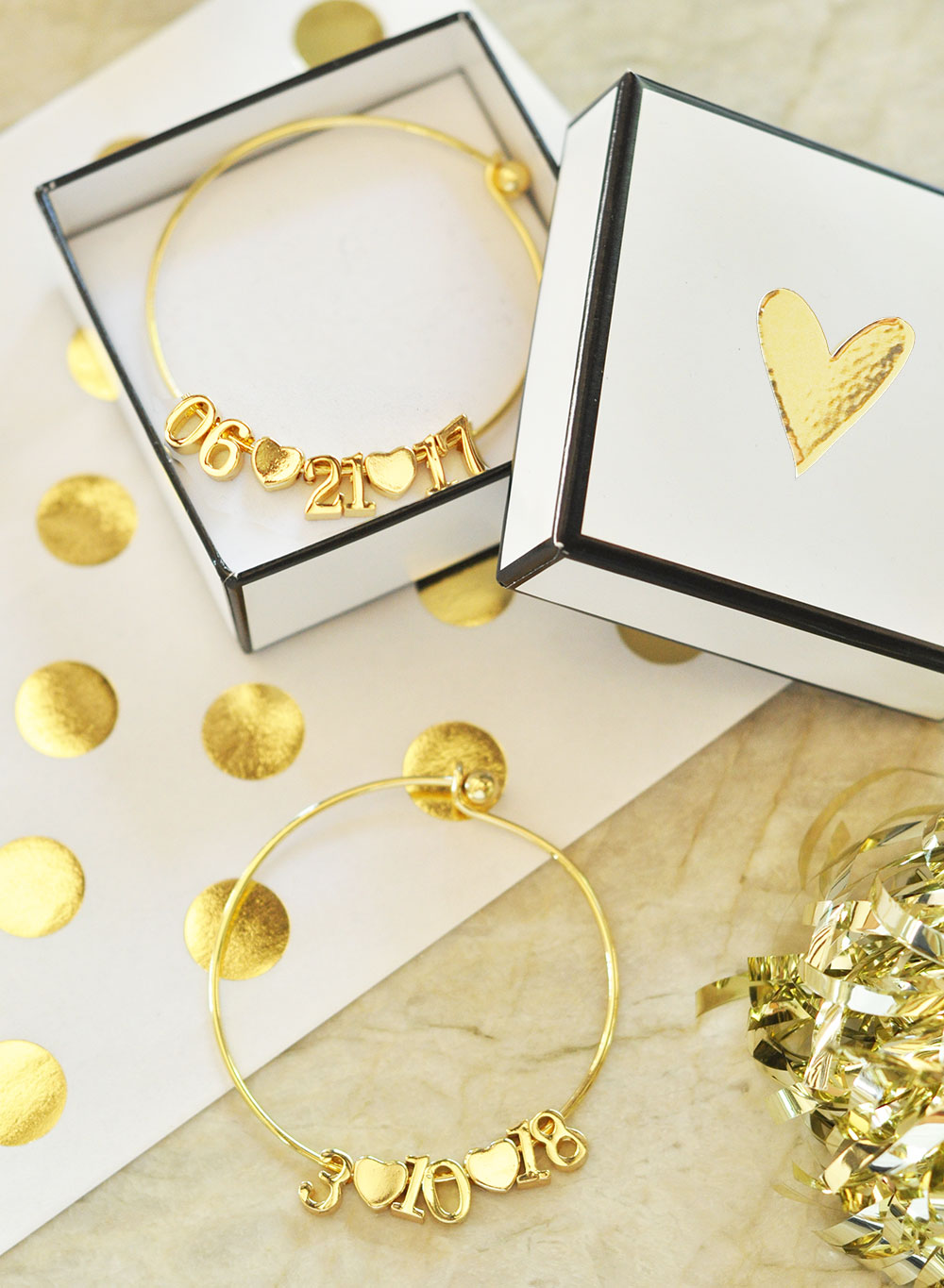 Gold Monogram Bracelet
Ask or thank your bridal party girls with an 18k gold plated bracelet with their monogram. Each bracelet includes a gold heart charm, a rhinestone charm and a gold monogram of your choosing. Add a gift box or a gift box with a floral printed insert either asking or thanking your bridal party for taking part in your big day. We have designs available for bridesmaids, maids of honor, moms, the new or soon-to-be Mrs, flower girls or even "tie the knot" inserts.

"Tie the Knot" Bracelets & Earrings
"Tie the Knot" bracelets and earrings are another stylish way to ask or thank your bridal party for the big day! Our bracelet is available in 18k gold and silver with your choice of "will you" or "thank you" for helping us tie the knot in a matching foil color. Our bracelets are adjustable to fit different wrist sizes. Each bracelet comes with a gold heart gift box. Our "Tie the Knot" earrings are also 18k plated gold and come in a black and white gold heart gift box.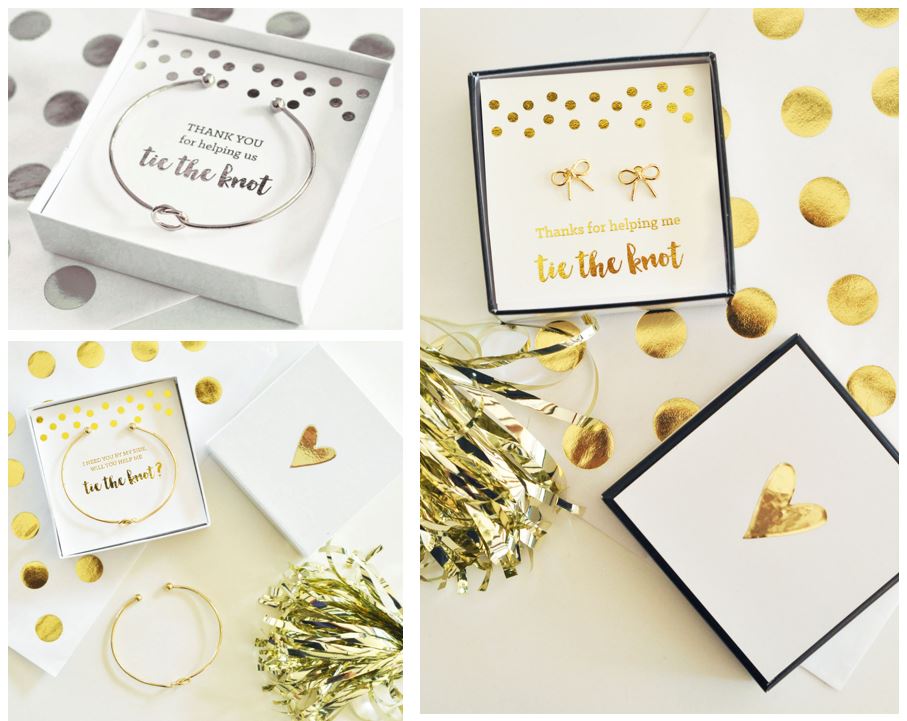 Gold Necklaces
For a newly engaged friend, check out our 18k gold-plated "Mrs" necklace. This necklace comes with a floral insert saying, "Best wishes for the soon to be Mrs" and comes with a black and white gold heart gift box. We also have an 18k gold plated "Mom" necklace with a floral insert that reads, "Thank you for all that you do" and also comes with a black and white gold heart gift box. Both necklaces are 19″ in length.

Colored Ring Dishes
Complete your bridal party gift with a gorgeous ring dish customized for each girl. Our ceramic colored ring dishes come with either a gold monogram of your choosing, a gold heart or a bridal party role. We have them available in black, mint, pink and white all with a shiny gold trim. Add a gold heart gift box for easy gifting.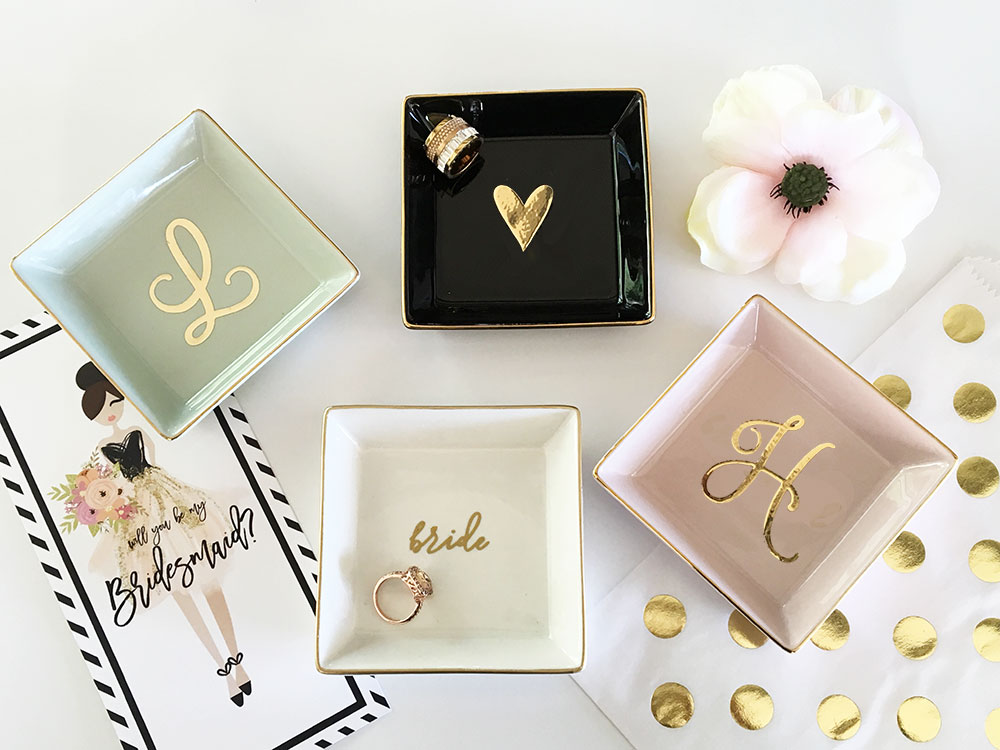 For these bridal party gifts and more, click here! Be sure to come back next week for more on the new collection.
Until next time,
Julie