Hello Blossomers!
Are your brides looking for add-on gifts they can toss into bridal party gift bags? Our new collection of wedding proposal gifts and favors is their one-stop-shop! Brides will find stylish and inexpensive accessories any bridesmaid and maid of honor would love and they'd all be a perfect additions to any goodie bag. Keep reading below for more details.
Bridal Party Sunglasses
Our bridal party sunglasses are a customer favorite! We have three different styles of sunglasses to choose from – floral print, black or metallic gold. Our black and floral printed sunglasses are available in a monogram, bride or bride tribe design and our metallic gold sunglasses are available in bride, bride tribe, squad or blank designs. Your bridal party can wear these at a bachelorette party, beach day or even at the wedding.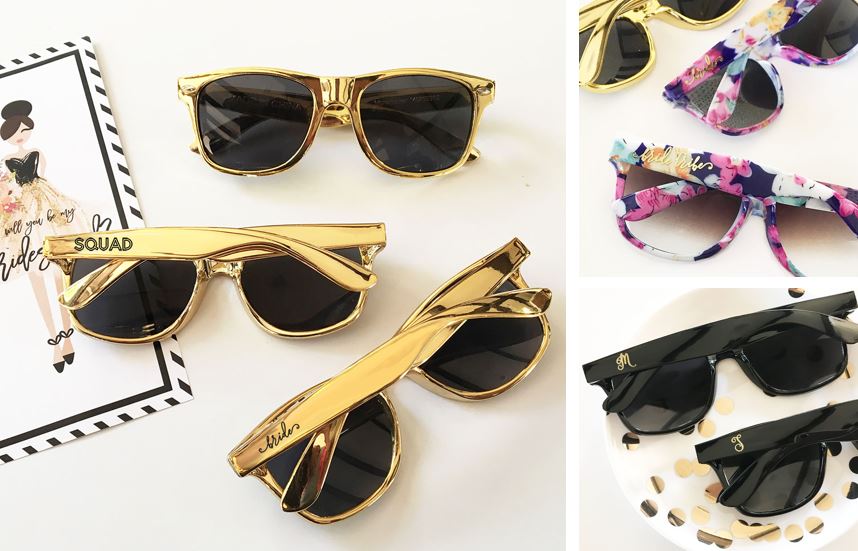 Bridal Party Jewelry
If your bridal party is filled with fashionistas or you're still looking for jewelry accessories to compliment your wedding day or rehearsal dinner outfit, we have many jewelry options to choose from! You'll find two styles of heart bracelets – a gold or silver "tie the knot" styled heart and a solid gold heart. Add in a gold monogram necklace, custom for each girl. These necklaces feature a large monogram of your choosing with a 17″ long chain. All three new jewelry options come with an add on gift box for easy packaging.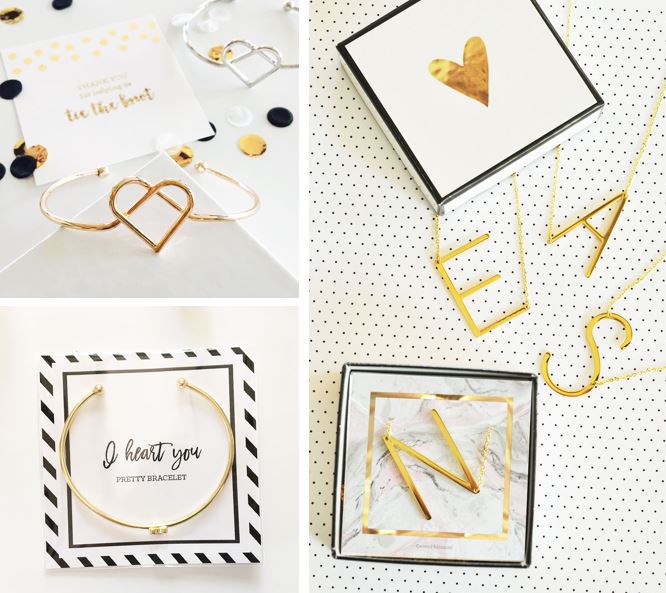 Bridal Party Hair Ties
The new bridal party gift collection features two new designs of our hair ties. Choose a pre-designed diamond shaped card reading "I couldn't tie the knot without you" or personalize the diamond shaped card with custom script and bold text lines. Bridal Party hair ties are available in a floral print, pink chevron, mint chevron, ivory chevron or black chevron. These soft hair ties are sure to please at a beach bachelorette party or even on a warm wedding day.

To find these bridal party gift ideas and more, click here.
Until next time,
Julie