"Sugar, and spice, and everything nice…"  You've heard all the stories.  You've digested all the well intentioned advice.  You've read all the books.  You're as prepared as you're ever going to get.  But since you discovered that your little bump is a baby girl things seem to have gotten even more hectic.   Between getting the nursery set up and buying an almost unreasonable amount of those adorable little dresses, it's pretty easy to forget that you've got a baby shower to plan.  Now, your baby girl is weeks away from arrival and you have no idea how to pull together a party worthy of your Little Princess to be.  Don't worry!  Style is in the little things, and our Pink Baby Mod Party Kit has all the details covered: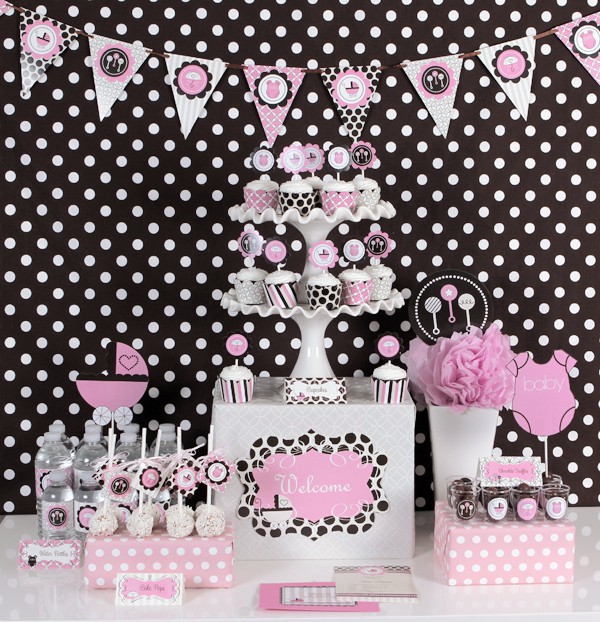 It probably comes as no surprise that pink is the classic go-to color for a girl's baby shower.  The great thing about classics?  They never go out of style.  Just like the classic little nursery rhyme I mentioned at the start of this post.   For this party kit, I decided to keep it simple; add a dash of creativity to something simple and the stylish possibilities are endless.  If you haven't checked out some of the personalized favors we offer to match these party kits, you should go do that right now!  Okay, finish reading this post and then go check them out… I decided to go with the personalized candy jars.  They're one of our most popular items and the list of things you can do with them is a pretty long one.  While most will put in their favorite candies, I chose a more theme-fitting blend: cinnamon sugar mixed with a bit of nutmeg.  Just to "spice up" this simple little favor, I used only two added supplies: pink ribbon and the favor tags included in the party kit.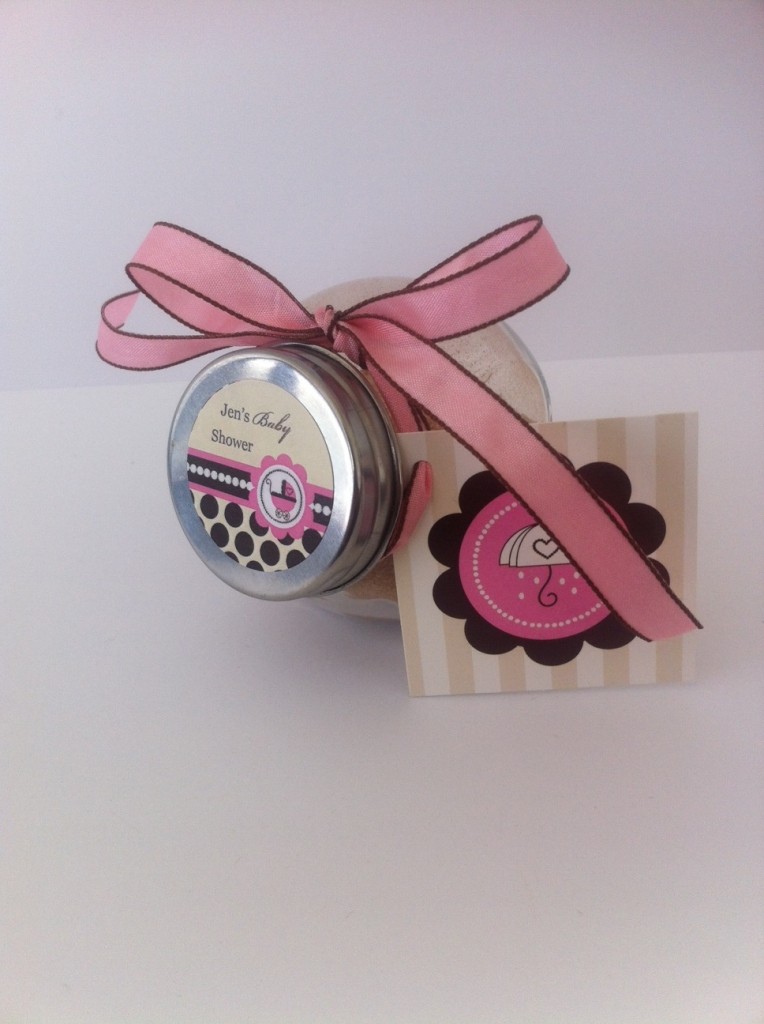 Being one of our most popular items, we also get a lot of questions about these jars.  There have been quite a few that I can think of, but I'd like to mention a couple of the immediate tips that come to mind.
You don't have to fill them to the top, but as a reference: these jars can fit approximately 75 jelly-bean-sized candies or four liquid ounces.
Put the labels on after you've already filled and sealed the jars.  Otherwise, you might end up with upside down labels.
I also added a message at the back of the tag and a note of the jar's contents, which I highly suggest for any edible gift if you aren't sure about your guests' food allergies: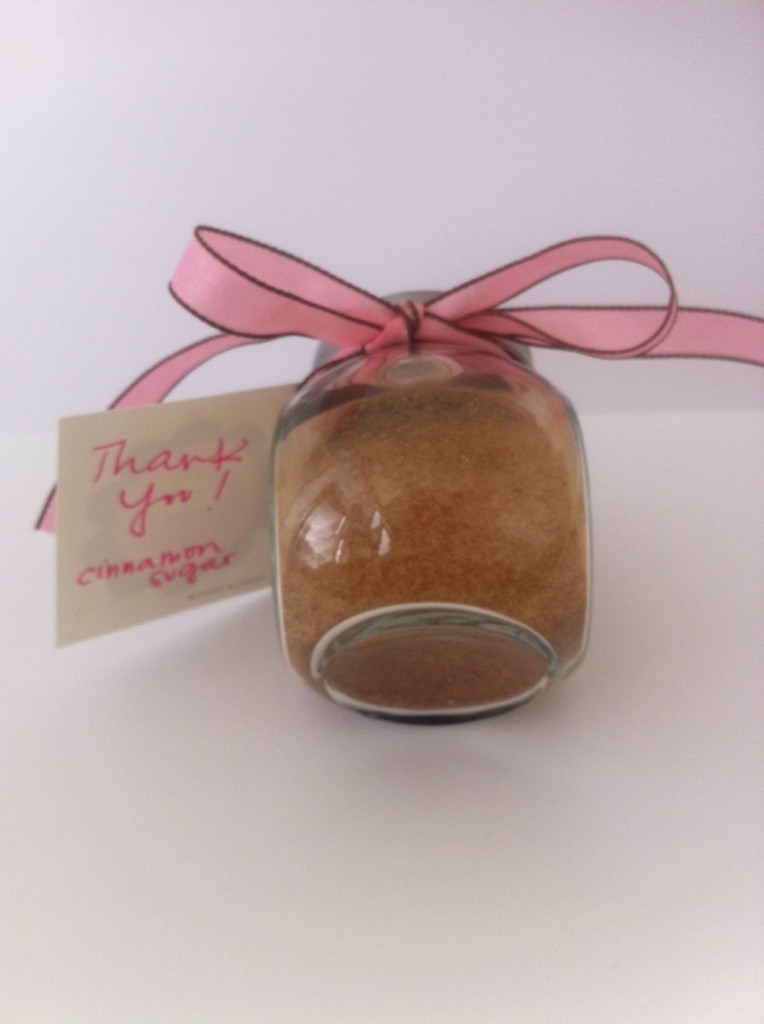 You can keep these off to the side or set them up right in the middle of the action for a little added decor.  Since we're going with the classics for this one, don't forget to play some of those favorite baby shower games; guess how big mom's belly is, what flavor is the baby food, and baby bingo to list a few.  When all the games are done and prizes won, move on to my personal favorite part of the festivities: dessert!  We're all about pink for this mod party kit, and Kate over at Sugar Therapy made some great cupcakes to match.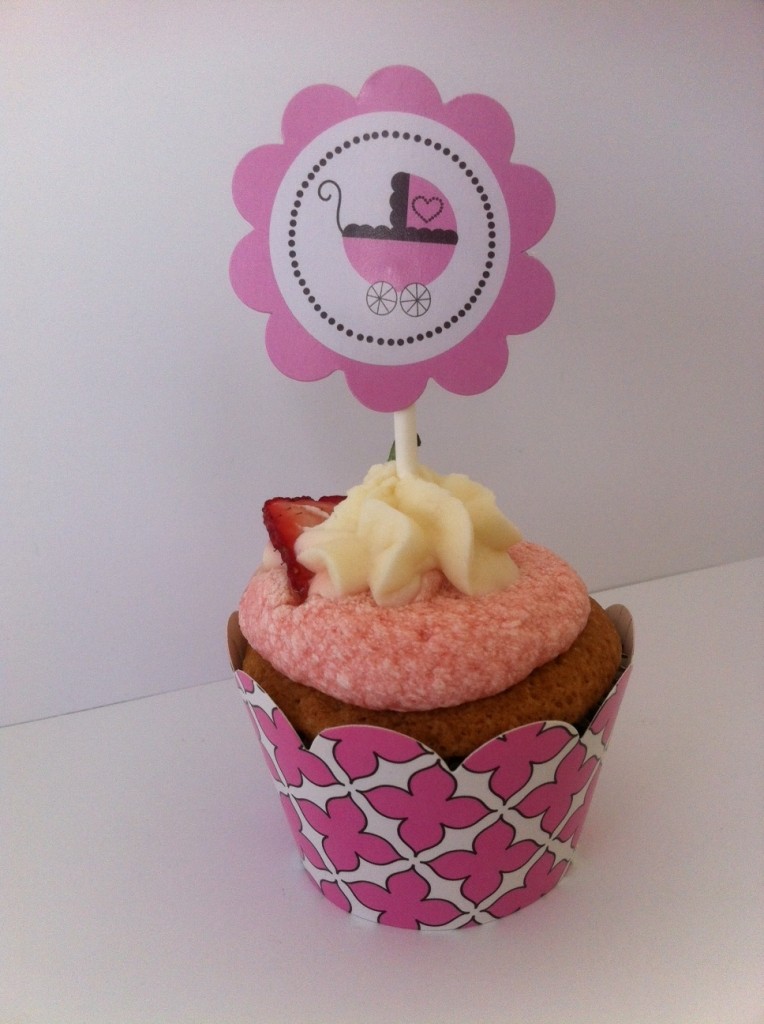 Share some of your favorite baby shower stories in the comments!
Until we meet again,
Kimi