Weddings are all about the bride and groom.  Baby showers are all about baby.  Every celebration has a celebrant, but every party also has one big centerpiece.  Sometimes that centerpiece involves some intricate decorative design and sometimes it's the food or dessert.  Well, this week's party kit can help make an even bigger showcase of the best kind of centerpiece: the cake.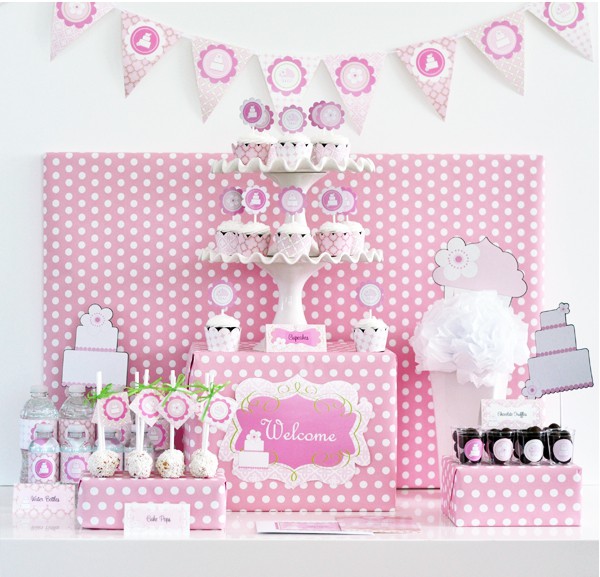 When I see this kit, the first thing I notice is all the pink.  Pink is the ultimate girl power color and there's just a perfect amount of green to help make those pinks pop!  This kit can work for almost any occasion, but I focused on having it for a girl's birthday party.  I don't know about you, but this kit just screams "girl's birthday bash."  Maybe because it's my birthday this weekend,  and I'm making a big deal out of it.  Usually, I'm perfectly content with having a fun night out with my closest friends or not even really doing anything at all, but this year I'm going on a little birthday getaway.  Why?  I have a better question: why not?
Before we start talking girly parties, I have a confession to make.  I'm not that big of a girly-girl.  I prefer blue and green over pink and purple, and I'm more likely to splurge on a pair of flip flops over heels.  Okay, that's not entirely true, I love high heels.   But just as with most things in life, I just have to be in the right mood.  However, big party or not, my birthday usually gets me pumped up — and when I'm in the mood for a big party, I go all out.
So in the spirit of going "all out," I decided to deck out a table that helps showcase the fabulous, over-the-top cake I imagine having at this sort of shindig.  With the help of a hefty amount of pink tulle and the pennant banner that comes in the party kit, I created a cake table worthy of the Princess(es) in your life.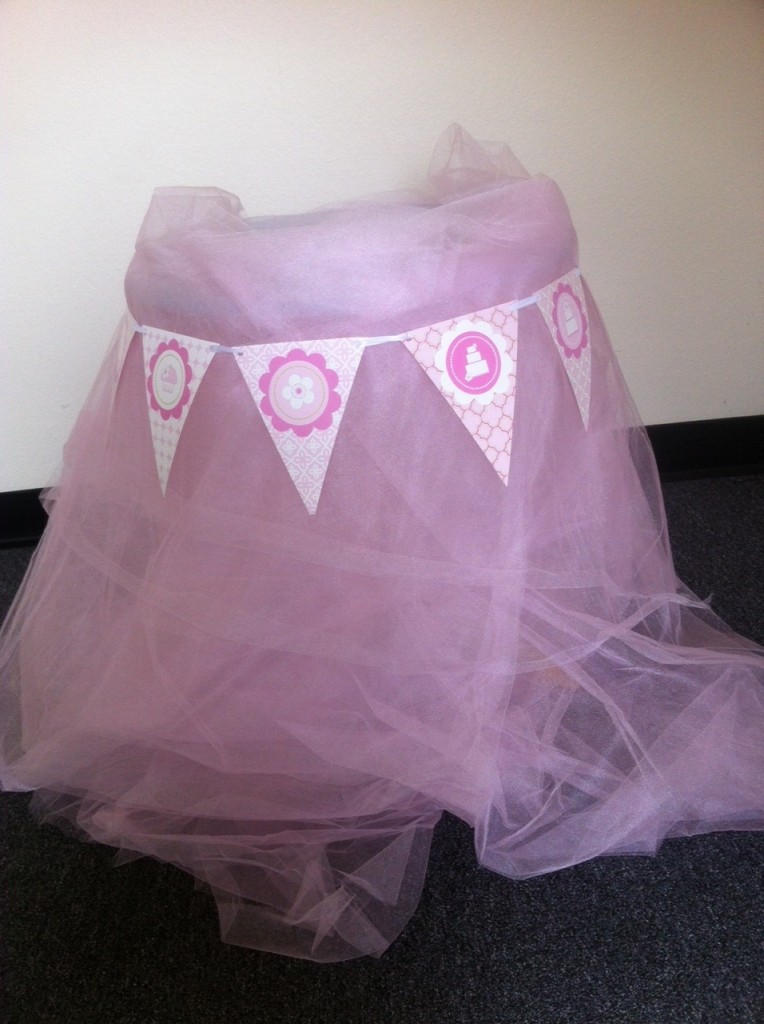 This table reminds me of two things: 1. a ballerina and 2. ball gowns.  On a scale from one to girl power, both of those things are off the charts.  And as an added bonus, it's actually really easy to do.  If you're handy with a needle and thread (I, sadly, am not) you can sew the tulle before putting it on the table.  Since I really, really fail at sewing, I just draped layers and layers of tulle over the table until I got the the full skirt I was looking for and then bunched some around the edges to get a cloud-like effect at the top of the table .  Like I said, really easy!  Add in an extravagant cake (or whimsical piece of decor) and voilà!
Your table doesn't have to be round; I think that a rectangular or square shaped table could pull off this look rather nicely as well.
Try out using a different color, mix and match colors, or you can even use different types of fabric.  It's your day and your party — do what makes you happy.  I know that's what I'll be doing for mine!  You know who else has a birthday coming up?  Kate from Sugar Therapy.  When?  The day after mine! We'll be embarking on this little birthday adventure together and, needless to say, we'll be sharing a cake at midnight.  Or maybe a cupcake — a very delicious cupcake.  Just like these Pink Lemonade Cupcakes: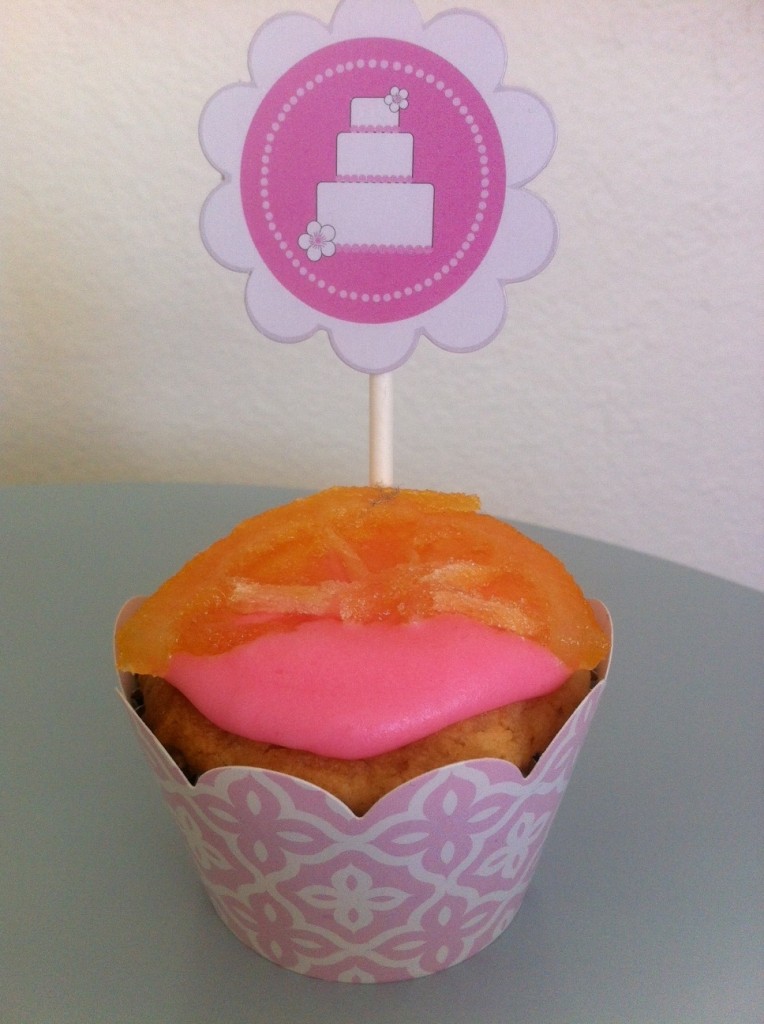 The best part?  The frosting matches the party kit perfectly!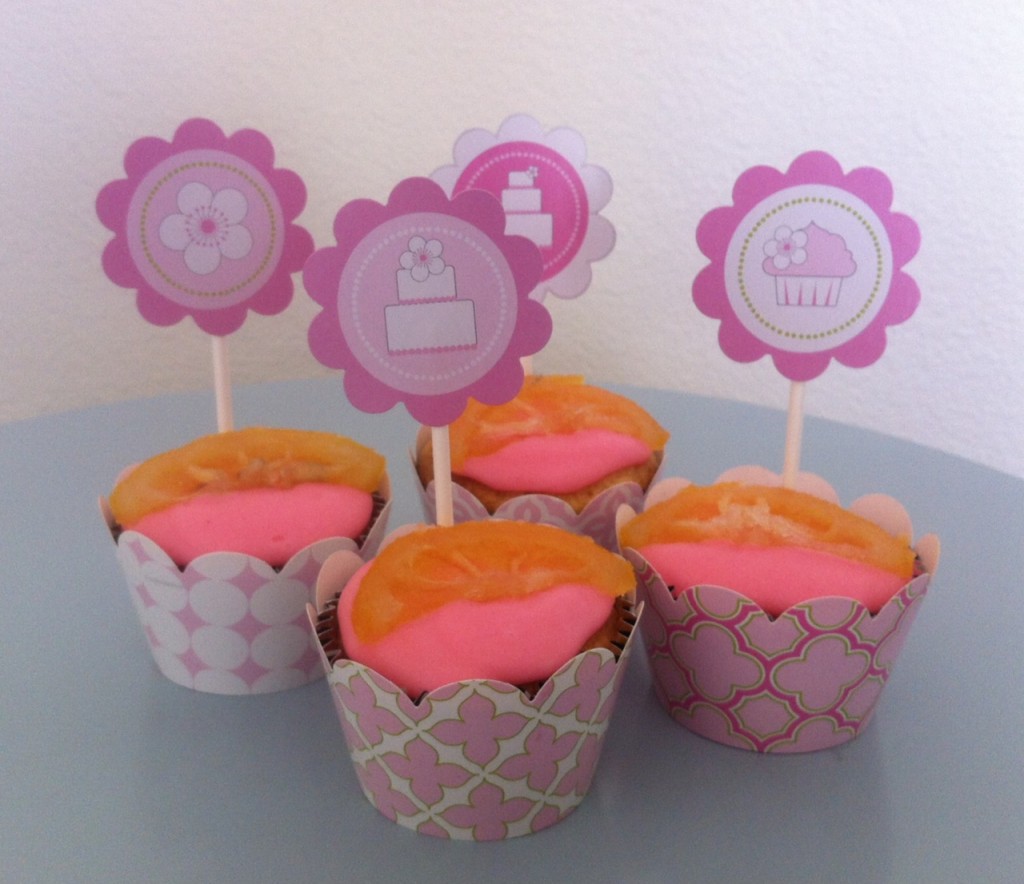 Happy Birthday to all the Summer babies out there!
Kimi