A major part of planning a wedding is making decisions.  A Fall or Spring wedding?  Destination or local venue?  Should Sally or Sarah be my Maid of Honor?  Should we serve chicken or beef?  And that's only a sampling of the questions you'll have to answer.  Not to mention that it's highly unlikely that every decision will only have two options to choose from.  The last thing you need to worry about is planning a wedding shower.  Even though the bride doesn't typically plan her own shower, our Wedding Shower Mod Party Kit makes it simple for whomever may be throwing the party.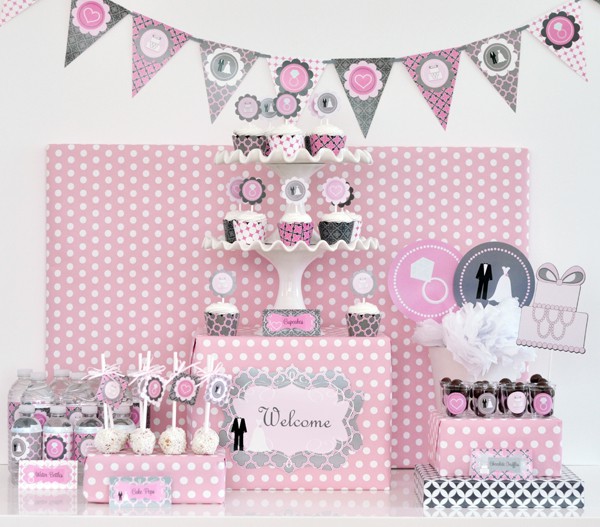 I'm loving the colors pink and gray together.  The neutrality of gray balances out the girly shades of pink — so having a co-ed bridal shower is definitely not out of the question.  After enjoying a stress-free bridal shower, you can move on to other important questions that need answering like: "should we write our own vows?"
Some feel very strongly towards one or the other.  So strongly, in fact, that it isn't even a question.  Personally, I'm pretty torn between the two.  Traditional vows are timeless and meaningful no matter how often they're used.  Self-authored vows are unique to you and your husband or wife-to-be.  It's also very courageous if you ask me; it's nerve wracking enough just getting up in front of everyone and speaking (even if you're not speaking directly to them) let alone getting in front of everyone and saying something you wrote yourself.  As someone who enjoys writing, I get my fair share of anxiety when I give someone a copy of my work for review.  I can only imagine how nervous I'll be if I have to actually read what I've written out loud to my future husband…at my wedding…in front of everyone.  It makes me nervous just thinking about it and I don't even know who my future husband is yet!  On the other hand, I would thoroughly enjoy writing my own vows and being able to express myself in my own words.  I would also really like to hear what my hubby comes up with as well.  Like I said, torn.  Luckily, I think I still have plenty of time before I have to make that decision.
I'm also pretty fortunate to have a dependable support group to help me with those decisions when the time comes.  I also know that there are plenty of people in my life I can go to when I'm in search of some much needed advice.  What can I say?  I'm a lucky girl.  The problem arises when I have to recall these tidbits of tips from memory.  I drew inspiration from a bridal shower I attended a few years ago for a solution.    One of the activities we did, after we made toilet paper bridal gowns of course, was write down some words of wisdom for the bride.  Obviously, many of them were regarding love and marriage.  I've been seeing a lot of specialized wedding keepsakes that come with designer cards and holders for just this purpose.  Always a fan of things hand/homemade, I decided that I would create a custom little memory book that put the Mod Party Kit's address labels to use in a different way.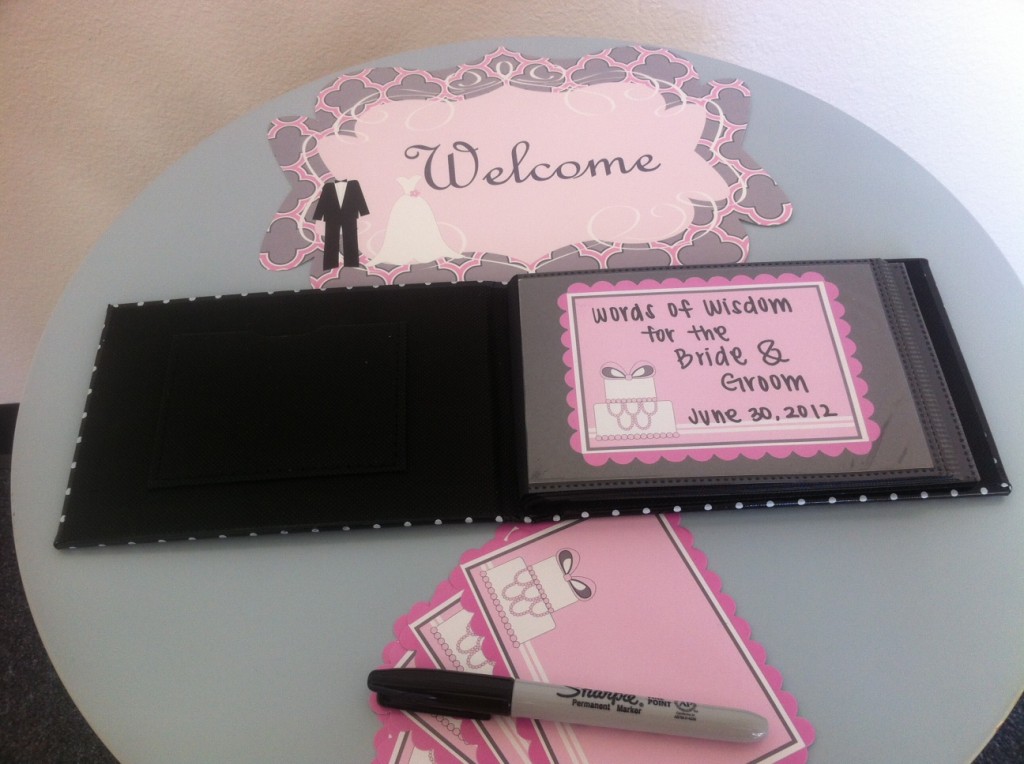 Extra supplies (found at a craft store):
Small album (called a "brag book" where I found this one)
decorative stickers, paper, etc. (choose things you like, I kept it simple with pink, grey, and a light tan cardstock)
scissors (to cut down the cardstock to 4″ x 6″ blocks)
Sharpie Marker (these come in a bunch of cool colors, I suggest silver)
Have your friends and relatives write their words of wisdom on the address labels.  You can pre-cut the cardstock and stick the labels on ahead of time or save that part of the project for another day.  Don't worry about not having enough cards to fill the album; just add your favorite pictures to fill in the empty slots!
Place these at the entrance to your shower where guests will see them.  It'll be fun to read and share with everyone when the party's winding down or to enjoy quietly to yourself after everyone's gone home.
Days, months, and years later, you and hubby can take a walk down memory lane with this special keepsake.  Another way to savor some good 'ol memories is by whipping up the same treats you shared on that day.  And if you make these cupcakes by Sugar Therapy for your wedding shower, you'll definitely want to make them again.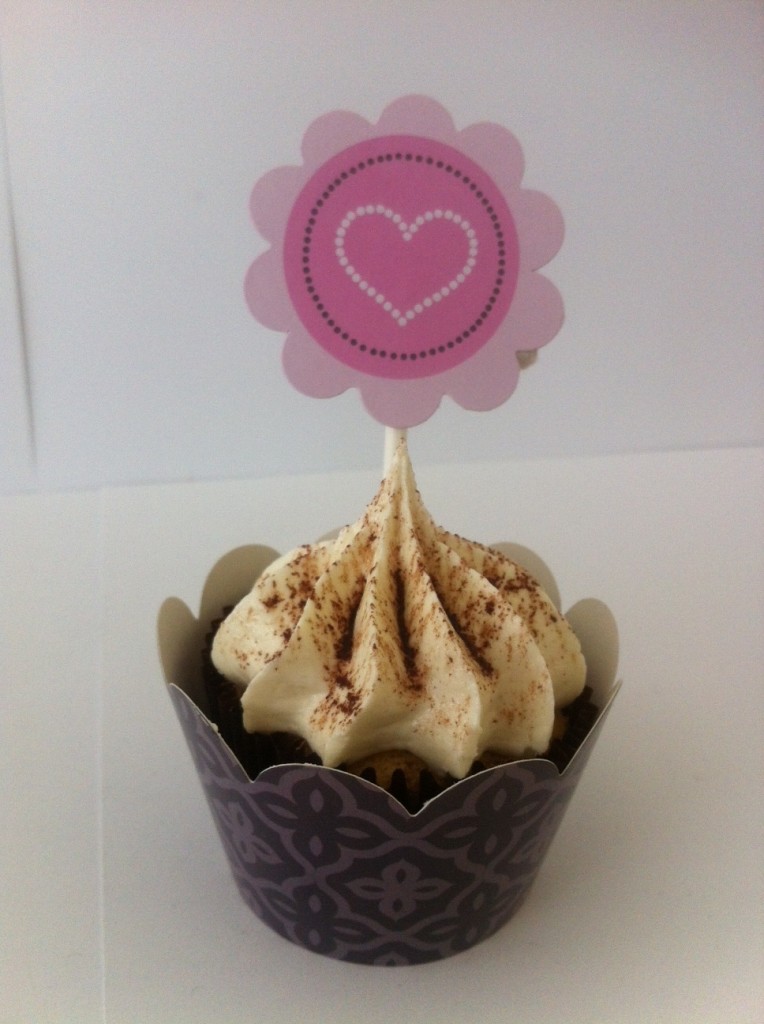 Chocolate Mousse Cupcakes.  Yes, they're just as delicious as they sound.
When you and your hubby are sharing some quality time on the couch looking through your memory book, these cupcakes are the perfect size to snack on and they go great with coffee.  How do I know that?  I had one for breakfast with my morning cup of coffee and I don't regret it one bit!