"Joie de Vivre" translates to "Joy of Life,"
and it is definitely worth celebrating.
Having a fun Girl's Night with your closest girlfriends is a great way to accomplish this.  And sometimes, that involves making a spontaneous trip to Paris!
Unrealistic?  Yes, but I can dream…
A mere four hour drive away, Las Vegas will just have to do — Paris Hotel and Casino is close enough, right?  So, buckle up and let's get this party started!
Now when I say "girl's night," I'm thinking about the ultimate Girl's Night Out: a Bachelorette Party.  I have to admit, I have always imagined my future Bachelorette Party being celebrated in Las Vegas.  Don't get me wrong, Paris would be amazing; but like I said, unrealistic.  So instead, I will settle for a replica over the real Eiffel Tower.  And with the help of one of these kits, I'll be able to imagine the real thing no matter where I choose to throw a party: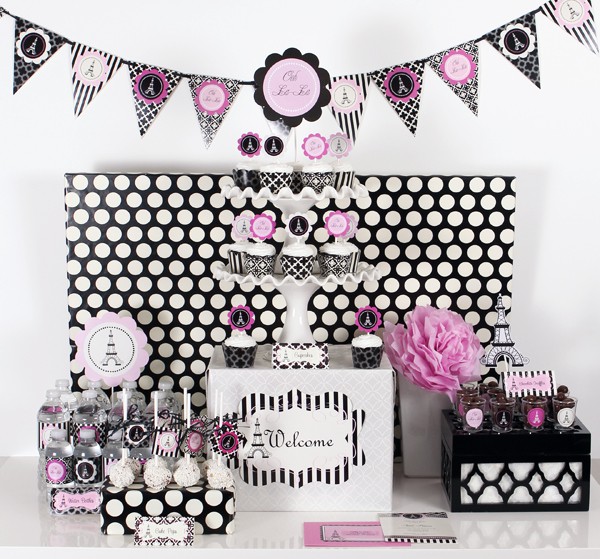 I love the look of this Parisian theme.  It's classy and feminine: everything a girl could want for her bachelorette party, birthday party, or just another girl's night.  Decorate your hotel room (or wherever you are), put on your party dress, and what classy affair would be complete without cupcakes?  Are you surprised that on of my party necessities would be cupcakes?  No?  You know me so well!  And as you also know, our Mod Party Kits come with cupcake wrappers and toppers so that even your sweet treats can get dressed up for a fun night too.
Another great thing these party kits can help you dress up?  Water bottles!  I know what you're thinking, water bottle labels for water bottles…very creative, Kimi, very creative.  Don't worry, I haven't run out of new ideas to share.  As a matter of fact, I went into my little workshop and managed to dress up even the dullest of party supplies: plain white, plastic cups!  See for yourself: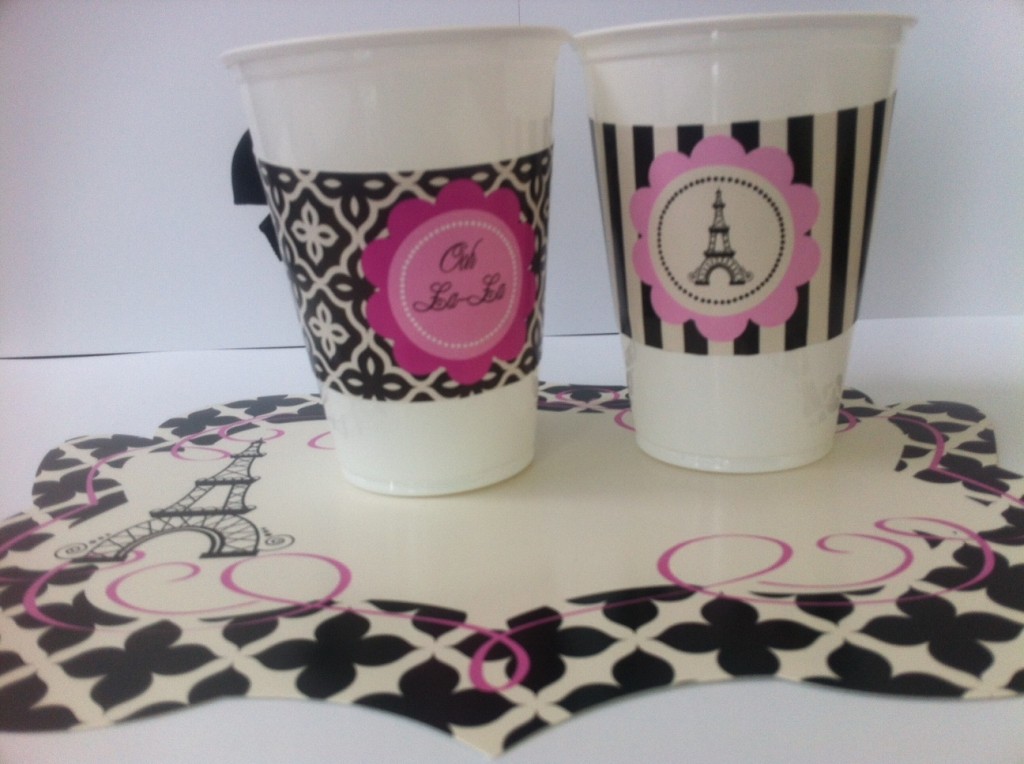 A couple of notes to keep in mind when putting the labels on cups:
The shape of the label is not meant to accommodate the shape of a cup.  You have to apply the labels at a slight angle for them to stick flat.  I found that the best technique for this was to take an unpeeled label, stick the center flat onto the middle of the cup (sticking down the icon part of the label worked perfectly), and then guide the label down on each side individually, following the natural curve of the cup.
These labels will only cover a certain circumference, therefore I used small cups — they were about 4 inches tall.
Another result of the label shape is that there will be a little triangle shaped gap in the back, but I just put one of our satin bows to cover it up a little bit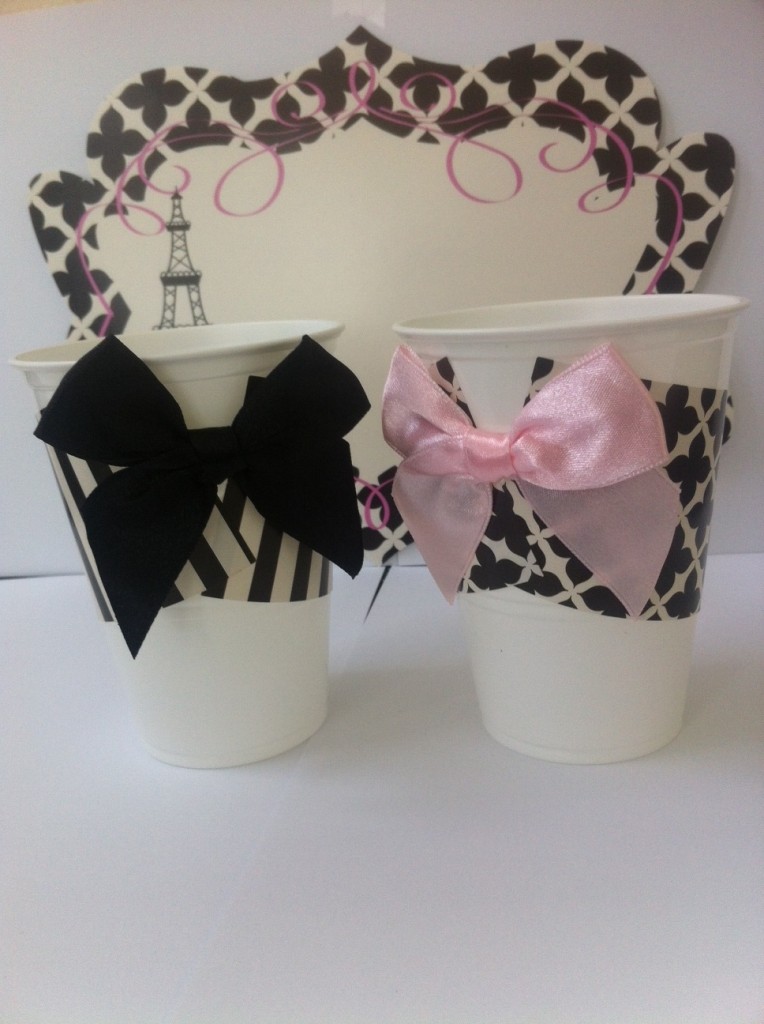 Fill these cups with your favorite drinks and enjoy with these scrumptious Fruit Tart Cupcakes straight from the Sugar Therapy kitchen: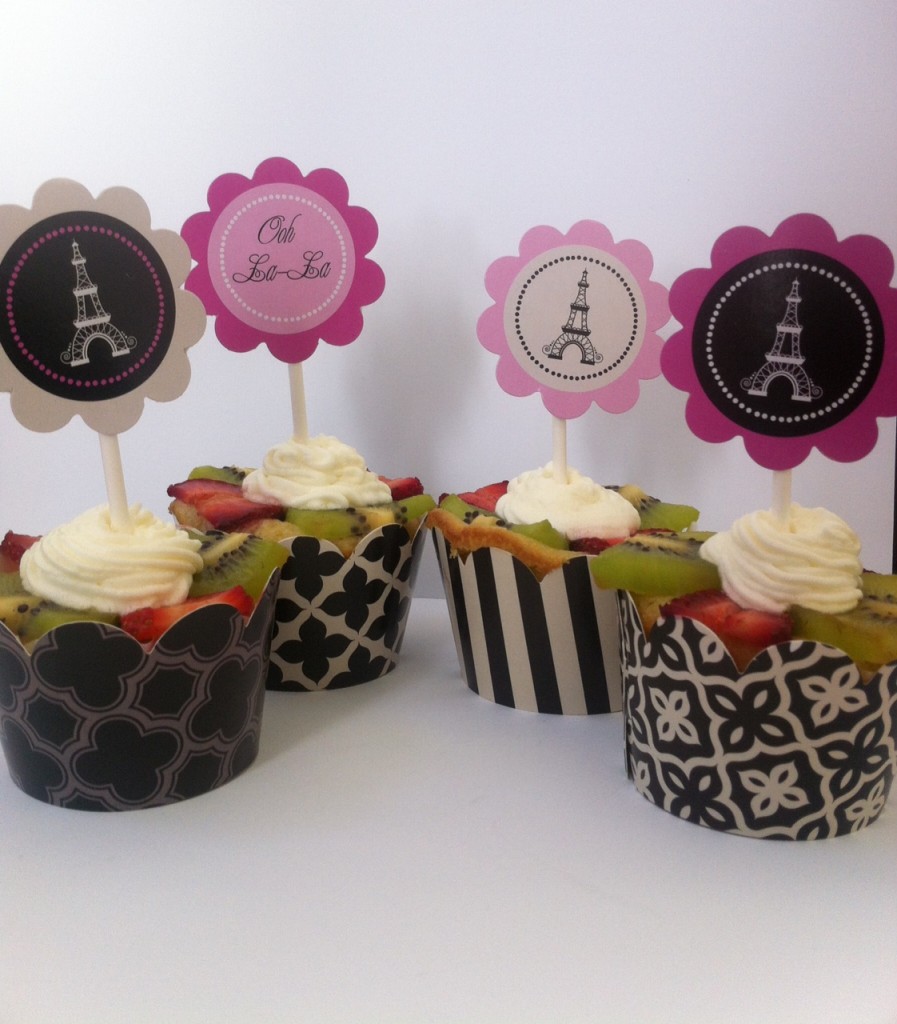 Now please excuse me while I enjoy the start of a great weekend with yet another cupcake.  Follow my lead: grab a party kit, whip up some refreshments, and tell the girls to come spend an evening with you in Paris!
How do you celebrate your "Joie de Vivre," Event Blossomers?  Inquiring minds (aka, yours truly) want to know!
-Kimi