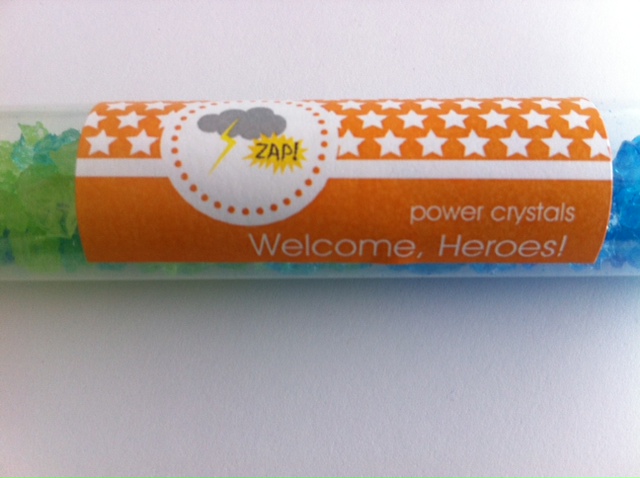 Admit it.  You have put on a cape and pretended to be a superhero at least once in your life.  Maybe you even managed to get up to the roof of your house and attempted to fly in which case, I hope that the evil geniuses known as "mom" or "dad" managed to foil your flight plans.  Now that we're all grown up, it's probably been quite some time since we put on the ol' cape and mask.  That doesn't mean we can't be a hero every now and again.  Save the day at your kid's next birthday party with these awesome favors requiring only 2 (that's right, two) things.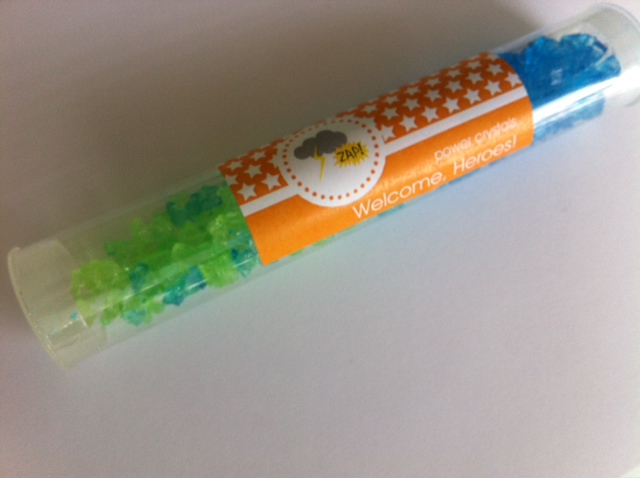 MOD Kid's Birthday Candy Tubes (EB2300MDK – labels shown in Tangerine, with the Stars Pattern Design and ZAP Kid Design)
Colored Old Fashioned Rock Candy (found at a candy store or you can play mad scientist and make your own using this recipe)
All I did was smash up the rock candy and mix the colors just to make the candy tubes pop a little more.  Now, you just have to decide what they're used for.  Whether they're a storage for superhero powers or the secret to defeating evil, theses sweet favors are sure to be a hit with the little ones.  To add to your super party, get more Mod Pattern Kid's Birthday Favors to match.
Now, go whip out that old superhero suit and join in on the fun!
-Kim