It seems to me that weddings steal the spotlight in the special event industry.  Granted, they are a pretty big deal —  even I have gotten caught up in the hype that is wedding season.  As much as I love weddings though, I would like to turn the attention to a different milestone.
GRADUATION!
Rows filled with people, flowing gowns, a familiar song.  Sounds almost like a wedding, right?  Also similar to a wedding, it marks the ending of one era and beginning of another.  Whether it's from grade school, college, anything in between or beyond, graduation is the ultimate celebration of your efforts and hard work.  And that is a fabulous reason to throw a party.  As a matter of fact, Event Blossom's very own Ashlee just graduated from college with a B.A. in Criminal Justice and she's throwing a graduation party of her own.   "Graduation" is a party theme within itself, and a flexible one at that.  Ashlee is going with a simple theme featuring her school colors, but virtually any other theme could also work for a graduation party.  My personal favorite is a travel theme.
Graduations are usually celebrated in the Spring or Summer seasons.  I don't know about anyone else, but these seasons make me think of great places I would love to travel to.  Places like tropical islands… Hawaii, anyone??  Aside from actual locations around the globe, travel can also refer to this journey we call life.  The completion of an education (of any kind) widens your horizons and can lead you to many exciting destinations.
So invite your closest relatives and friends to celebrate these exciting openings and opportunities to come.  A great way to thank your guests for their support?  Packing a suitcase for them!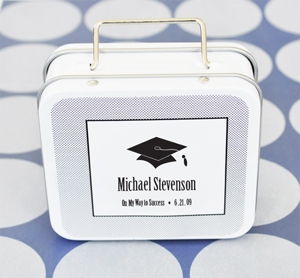 Going for a simpler theme for your grad party?  Don't worry, we've got plenty of other graduation favors for you to choose from.  Find one that suits your style, and make it all your own — another thing graduation has in common with a wedding: it's all about the celebrant, as in you.
So let's hear it one more time for Ashlee and all new graduates…
Congratulations, Class of 2012!
Kimi