There has been A LOT of new and exciting things in the works over here — a couple  of the newest and most exciting things being the launch of our Mod Party Kits and the launch of our blog.   Soon after the arrival of our Mod Party Kits, we decided that we wanted to do a special blog series about each of these great new products.  As we were checking out all the goodies each kit held (and being the cupcake lover that I am), I got especially excited about the adorable cupcake wrappers and toppers.  Then, a brilliant idea came to me.
But first, a mini history lesson:
The phrase "Let them eat cake," is the English translation of the French quote: "Qui'ils mangent de la brioche."  This was a quote supposedly uttered by Queen Marie Antoinette when she was made aware that the peasants did not have any bread.  Although there is no actual record of her speaking these words, it was meant to capture the queen's obliviousness to the current struggles of the very people she ruled over.   Nowadays, it's just a fun phrase to say when it's time for dessert.  Or maybe that's just me.  Now I really want a cupcake…What were we talking about?
Oh, right, blog series:
I'm so happy to announce that for this fun project, we have collaborated with fellow blog Sugar Therapy in order to bring you wonderful Blossomers a very delicious treat!  Our delightful friend over at Sugar Therapy is one baking genius and we're so thrilled to be working with her.  Just take a look at one of her creations: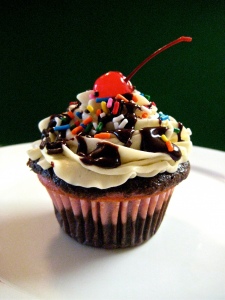 While we give you some fun ideas about how to use each kit, this brilliant baker gal is whipping up special recipes to go with each Party Kit Theme.  It's going to be one creative, tasty adventure and we want you along for the ride!
Stay Tuned, Event Blossomers!
– Kim