Hello Blossomers!
Do you have customers looking for a unique party favor their guests will love? Direct them over to Event Blossom's towel party favors. We offer three different styles that will work for baby showers, bridal showers, as wedding favors and even for birthdays. These towels are not only practical favors that guests will use after your event, but they are also ideal for a summer event. Keep reading for more details.
"Love is Sweet" Towel Cakes
Our "Love is Sweet" Sweetheart Towel Cakes are worth doing a double take! What seems like a delectable dessert is actually two beautifully folded and decorated hand towels! Carefully decorated to resemble a sweetheart cake, this favor is the perfect accent to a chocolate lover's wedding, bridal shower, or baby shower. Made of 100% cotton, these towel "cakes" are topped off with faux wafers and decorative strawberries, and then finished with a message that reads "Love is Sweet". This beautiful and practical wedding favor rests on top of a doily and is packaged in a clear heart shaped box with a brown base, ready to adorn your reception table.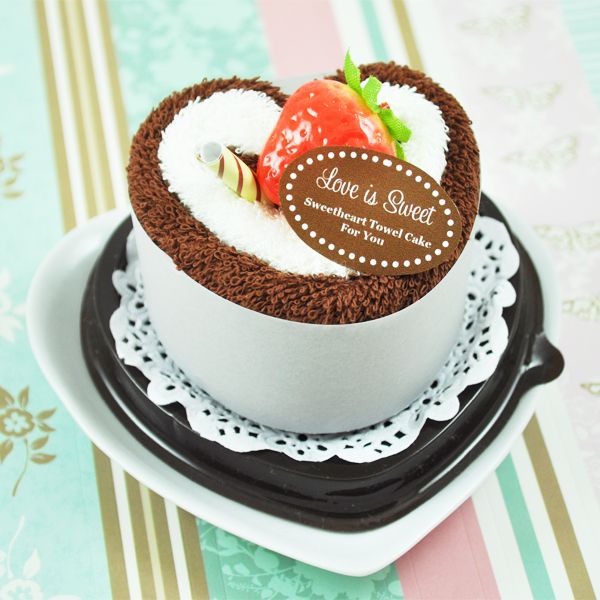 "Sweet Treat" Towel Cupcakes
For the cupcake lovers, these adorable cupcake shaped favors are just the sweet favor! These towels are 100% cotton and their softness will most definitely appeal to guests' hands. Carefully decorated to resemble a cupcake, these precious favors are the perfect accent to any wedding, bridal shower, or baby shower. Our "Sweet Treat" Towel Cupcakes are topped off with a striking faux cherry and message that reads "Sweet Treat". You can even add your own personalized message to these charming favors to make them truly unforgettable! Each cupcake towel comes packaged in a clear box and finished with a satin bow and is labeled with "Sweet Treat". We have three fun colors to choose from – Brown, Pink & White.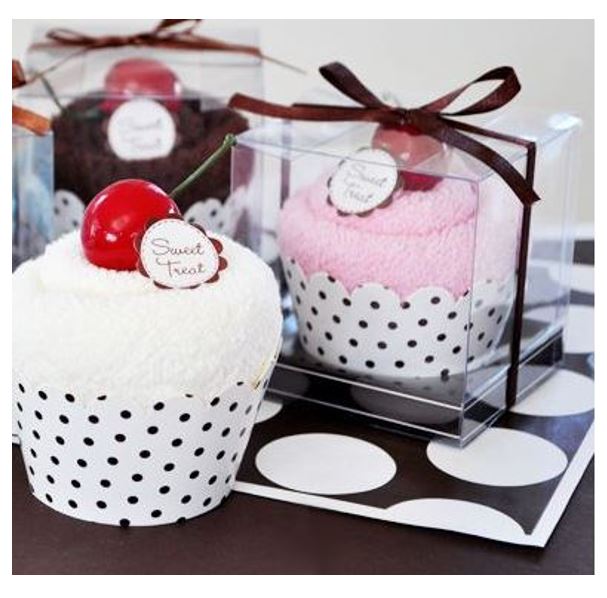 Lollipop Towel Favors
No one can resist the temptation of a sweet treat, so what better way to entice guests than with scrumptious-looking Lollipop Towel Favors? Each Lollipop Towel favor features a colorful cotton towel wrapped to look like a sweet swirly lollipop. The tasty creation is then placed on a stick and wrapped in cellophane to offer a 100% authentic look. Arrange these delightful favors as a bouquet or put one on each of your guest's place settings. You could easily use these treats for bridal showers, baby showers or even as wedding favors. Available in two delicious flavors – blue and chocolate brown – these Lollipop Towels Favors make the perfect confection for your unforgettable event. Personalize each towel lollipop with a special thank you message to your guests.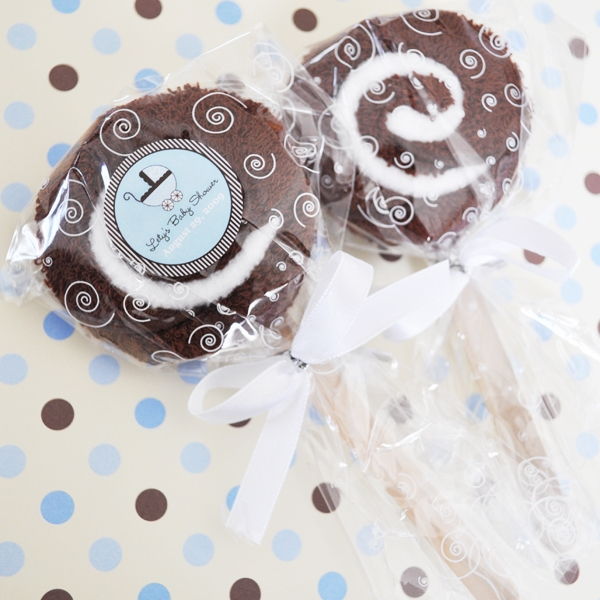 Until next time,
Julie