Hello Blossomers!
If you haven't planned your winter wedding or celebration yet, what are you waiting for? Check out our Winter Collection of snowflake favors and decor to transform your event into a snowy winter scene. Some of our favorite snowflake favors are below!
Personalized "Snowy Notes" Notebook Favors
Hosting a party in a glistening white winter landscape? Let us help set the mood for joy, love and merriment with our Personalized "Snowy Notes" Notebook Favors! These handy customized notebooks are the ideal size to slip into a purse or keep in a car. Personalize them with your choice of color, a sleek snowflake design and a special "thank you" note from you to your guests. Each white notebook opens up to reveal a blank white notepad inside and a white retractable pen that conveniently holds everything together.

Personalized Snowflake Ornaments
Give your guests a favor to mark your winter wedding with our Silver Metal or White Porcelain Snowflake Ornaments. Everyone will cherish and remember your special day year after year when they make these snowflake ornaments part of their holiday collection. You can even use the Silver Metal Snowflake Ornaments as thoughtful place cards. Add personalized labels for extra sparkle or hand them out as is.

"A Winter Holiday" Personalized Snowflake Acrylic Favors Boxes & Labels
No two snowflakes are alike and there will be no other winter party like yours this year! Make your favors special with these one-of-a-kind snowflake acrylic boxes. These personalized favors can be filled with delicious treats like jelly beans or chocolates that no one can resist. Our personalized labels will make these truly custom favors and, once they have gobbled up your treats, guests can refill them with their own favorites. Already have your own favors boxes or bags? You can get just the snowflake labels to add a personal touch to your favors!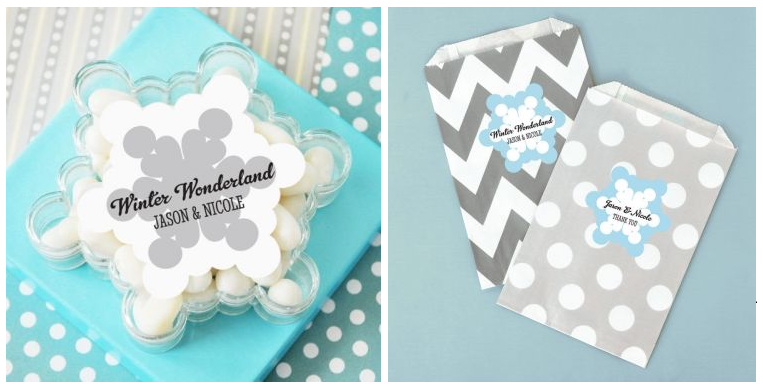 Silver Glitter Snowflake Stickers
Add a little silver sparkle to all you can imagine! Our silver glitter snowflake stickers will stick to just about anything. Decorate your stationery, favor boxes, milk bottles, favor bags and more. They can even stick to paper straws and lollipop sticks to decorate your drinks and cupcakes! A fun, stylish way add shine to any decor.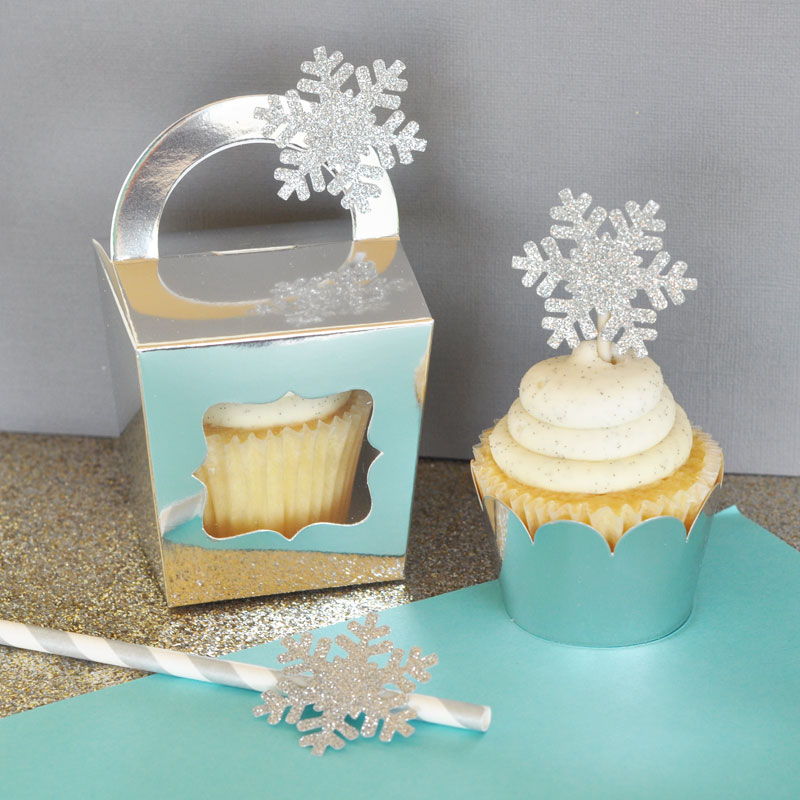 Winter Party Decoration Starter Kits
Don't forget about our decoration starter kits! These will help you get your theme and color scheme going. These snowy designs are available in beautiful blues and metallic silver foil party kits.

To find all of these winter favors & decor, click here! Be sure to come back later this week for more holiday designs and ideas!
Until next time,
Julie